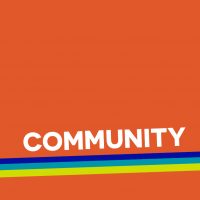 April 2nd, 2018
Students – our future is bright and filled with dignity
Imagine this. Melissa, one of the I Choose Dignity in the Classroom facilitators, is supporting a grade one student with an exercise about uniqueness and individuality.
The student, caught in the moment, studies Melissa's face before plainly stating, "you are smart, Melissa".
This moment hardly seems out of the ordinary. A compliment paid with sincerity and kindness is an everyday occurrence for most. So much so, that we often don't recognize the compliment, or even shrug it off.
Except this is a profound moment for Melissa. People often make assumptions about her because it is visibly apparent she has some sort of disability.
Melissa, who is funny, bright, motivated, a musician and a sports enthusiast. Melissa who uses a wheelchair. She is so much more than the chair she sits in, yet she shares with the students that many people often see the electric chair she uses, and sometimes never see much beyond it. People rarely ask her all those small talk sorts of questions you or I might get. Where are you from? What do you do? Do you have kids? Questions often relate, in some way, to her chair.
Advocating to the grades one we were working with, Melissa encouraged that asking questions can be good. She helped them begin to understand what good questions sounded and felt like. The way we say the words we speak has a big impact. Our questions often help paint a picture of the story we are interested in pursuing in our heads. It is with this backdrop that the young child who looks deeply at Melissa, and sees her, said how much they valued her. For Melissa, it is apparent that this isn't an ordinary exchange.
I Choose Dignity in the Classroom is quickly impacting the students who engage with the curriculum, as well as the schools in which it is being taught. The structure of the program, as well as the content, are painting a new kind of normal.
---
Work in the Community
Extend-A-Family Waterloo Region collaborates with community partners, neighbourhoods and organizations to build lasting change. With belonging and inclusion at the heart of everything we do, community work is vital to nurturing a Waterloo Region where everyone belongs.