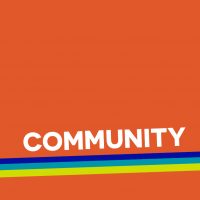 March 28th, 2018
A community that wants everyone at the table
Bringing people together and building a community that is supportive of all of its citizens is at the core of community development.
Whether it's engaging in a gathering, an event or bringing a group of people together that ordinarily wouldn't connect, we want to find a way to impact those involved, creating some form of lasting change.
Lasting change – no small feat, and often immeasurable and difficult to see. Our approach is to engage people with our work, in ways that levels the playing field. Putting the people we serve, people with disabilities, as the planners and organizers. Sponsors are encouraged to come out and participate. Participants become the evaluators. Our hope is that the people involved will see themselves standing alongside others, discovering that respect and esteem flows between them, from organizer to participant. The playing field is equal.
So brings us to a single afternoon: our community dodgeball tournament, a single event in a series of more than fifteen gatherings we host each year. Neighbours throwing a soft(ish) ball at one another and sharing pizza together following the game play. A simple afternoon that is filled with fun and comradery, organized by the very people we serve. However, eight months later, when a community association connects with Extend-A-Family Waterloo Region wanting to know how our tournament went, and whether we wanted to share our learnings and ideas, we are presented with an opportunity.
This is the shining moment when we redirect questions from the community association to the committee that built the event and brought it to fruition; people who are served by Extend-A-Family Waterloo Region. It is that committee that now collaborates with the community association. While the initial tournament was an ordinary recreational sporting event, what resulted was the positioning of a person, who normally might not be thought of or recognized as a contributing member, as a skilled and knowledge person with much to contribute. What resulted is a citizen assuming their rightful place.
---
Work in the Community
Extend-A-Family Waterloo Region collaborates with community partners, neighbourhoods and organizations to build lasting change. With belonging and inclusion at the heart of everything we do, community work is vital to nurturing a Waterloo Region where everyone belongs.