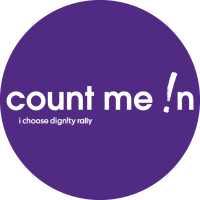 May 30th, 2016
Count Me In …. and You, too
The Quest for Community Supporters
Here at Extend-A-Family Waterloo Region, we are passionate about the I Choose Dignity movement. We believe in the power that this potential global movement could have. We throw ourselves into inclusion celebrations, where we honor and value people who strive for increased inclusion for all. We drive curriculum-based values home in our I Choose Dignity in the Classroom 5-week session offered to grade 1 students around the Waterloo Region. And we passionately pursue an ongoing dialogue with supporters in the Waterloo Region through our Count Me In Rally.
What has me on fire is the recognition that what we are doing, here in Waterloo Region, within the scope of Developmental Services… these same desires, these same celebrations, these same conversations, they all are happening in other sectors of our great community. We have passionate champions working  in areas like poverty, homelessness, housing, education, mental health,  immigration, health services, employment, research, advocacy, business and a whole host of areas that are too numerous to mention. What this year's rally will focus on, where it will shine a spotlight , is that being counted in, that matters. That matters globally; it matters across faith, cultures, genders, age, income levels, and any other marker we have used to separate an 'us' from a 'them'. This year, when I commit to choosing dignity, it isn't simply for those with a visible developmental disability, but more broadly. I choose to honor and celebrate all diversity. I choose to stand beside those who work and/or receive services in the diversity of sectors here in Waterloo Region serving people.
This year's rally is about calling together voices who carry a singular message – if and when we exclude others, it is to the detriment of all. Our communities all thrive when the full diversity of citizens is present and participating. This year's rally is reaching out to strong community voices to lend us their wisdom and lend us their guidance. This year's rally is about hearing voices that have been left out in the past, and who have much to say that we need to hear. Stories of passion and gifts, and lessons about kindness and compassion.
Much thought and consideration has been given when thinking about who to ask to speak at the rally. Voice has power. Voice has energy and movement. We desire to provide a venue for voices that can bring new insight, new calls to awareness and action, and new perspectives on old stories. This growing story, bigger than our small piece of the narrative, is growing with each day. I am so eager to share in the coming weeks the tales of those who will join and support us on June 16th. Stay tuned!
—
About Kim Sproul: Oh hey! Glad to virtually meet you! Coming from the perspective, and I quote Margaret Wheatley here, "Whatever the problem, community is the answer", much of my writing involves connecting an individual (ANY individual) to the broader community. This is how I approach life at home, at work and all those other places I like to spend time. Community, in it's messy, complicated, ever-changing wonderfulness, is where I prefer to direct my energies.