April 23rd, 2021
#VolunteersBringChange – THANK YOU to our volunteers! #NVW2021
April 18 to 24 marks National Volunteer Week. Throughout the week, we've been sharing how #VolunteersBringChange and highlighting the contributions of volunteers at Extend-A-Family Waterloo Region
#BetterTogetherWR includes those who have volunteered their time at EAFWR. Whether it's been helping out at a fundraising or community event, lending a helping hand at the Library of Things, serving on our Board of Directors, or volunteering their time during COVID, we wouldn't be able to do what we do without you.
To mark National Volunteer Week 2021, we're pleased to share a story from Direct Support Person Kim Bickford about her son Riley. With just 20 volunteer hours left to complete during the pandemic, Riley came up with the idea of COVID Boredom Kits for people supported by EAFWR. Read more about Riley and his COVID Boredom Kits!
---
So I have realized that my son Riley is a procrastinator. He graduates Grade 12 in June and still needed 20 volunteer hours. The heat was on and with COVID-19, it was challenging to figure out how to get those 20 hours and trying to social distance to keep safe.
Riley came to me one day and said "I want to put a kit together for the people that get support from Extend-A-Family. Intrigued, I asked him, "What kind of kit?" He said that he has gotten bored at times being home because of COVID-19 and could put together ideas of what to do to lessen the boredom.
Because I work for Extend-A-Family, Riley realized that when there's

a lockdown, it's not always possible to get together with the people

you support. That can lead to anyone feeling bored when you're used

to a regular routine and it stops suddenly.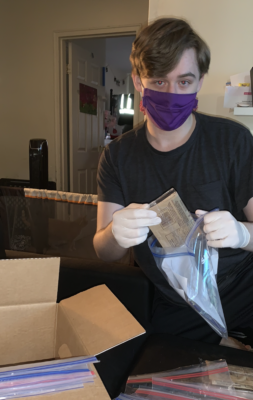 Between the two of us, we came up with wonderful ideas of what to do and gave samples of things to go with the ideas. For example, one idea was to watch a movie if you're bored. So we decided to add in a package of microwaveable popcorn because what's a movie without popcorn?
So far to date, we made up 30 kits and have delivered 10 of them. He's getting close to his 20 hours! But more importantly is what he is learning and feeling when he delivers these kits. That is more rewarding to him than the 20 hours that is required to graduate.
This week is National Volunteer Week. Congratulations to Riley and all the other volunteers who give their time and heart to volunteering. For anyone wanting a COVID Boredom Kit, contact your Coordinator to arrange for Riley to drop one off.
Thank you to Kim for sharing this story and to Riley for your creativity and making a difference! And thank you to all the volunteers out there. You inspire us.