June 8th, 2020
Community Engagement and Fundraising
The Community Engagement Team engaged in a transformative process as we participated in the development of a team vision. Our newly found vision has guided our work over the last year and we have committed to work in tandem with EAFWR teams to equip and educate while responding and supporting both the organization and the community in creative and unique ways. 
Our team worked hard this year to bring high quality, engaging and fun events to our community that raise much needed awareness about disability and bring in funding for our organization so we can continue to provide support to the families we serve. Our focus is always on bringing people together in hopes of fostering new relationships and connections. This year, we were #BetterTogetherWR as we celebrated neighbourhoods at our second annual Block Party fundraiser, gathered for our much loved Walk or Wheel (WOW), recognized Jeff Poolton for his positive impact as our 2019 Maria de Boer Changemaker Award recipient and toasted "Cheers to Inclusion" at the launch of the Andre Campbell Cranberry Ale.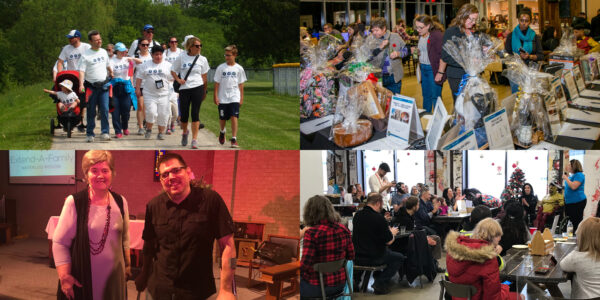 We are so grateful to those in our community who support our families and those we serve through the organization of third party event fundraisers. This year, we were thrilled to receive support from events hosted by community members, including: A Blooming Affair, a poker tournament, two live concerts hosted by talented musicians, a Stella & Dot Party, and Nascar event.
And we continue to be so appreciative of the on-going efforts and support from All-Brite Glass & Tint through their bi-annual Windshield Chip Event in support of EAFWR, the annual May Court Flower sale, and Rock for Autism organized by Ryan McTavish. 
Recognizing and appreciating those who support EAFWR is something we always strive to do as they are the heart of the organization. Because of their commitment, we are better able to support the families we serve. We brought together our donors and volunteers for a special evening at Proof Kitchen & Lounge in Waterloo to show our appreciation for their on-going dedication. We also celebrated our Direct Support People with a night full of connecting, delicious food truck eats and live music and we hosted a paint night in February. 
Better Together includes YOU – the people we serve, our families, our staff, board members, volunteers, donors and our community. Thank you for joining our village, for attending our events, for your support of inclusive and diverse neighbourhoods. Our organization's mission of championing a community where everyone belongs and feels valued is at the heart of everything we do and we can't wait to see what's in store for this year!