While respite provides people and their families with short breaks, it is really about building a relationship with someone and having experiences together that are beneficial and enjoyable for everyone.
---
We urgently need more great people to host someone like Matt or Paula:
"I like my respite weekends because I get to hang out with a couple of different families who are my own age. One family has a baby and a puppy. I think their baby is cute. I like seeing what movies and X-box games they have that I can play. Sometimes we go out to eat at a restaurant. Sometimes we go for a big family meal and I get to meet their parents. Their families are nice and I like meeting new people. Our weekends are fun."
"Stacey and I are like sisters. We like doing the same things together. We like shopping. We like working with the horses together, we cook together. Stacey was the one that got me into standardbred race horses.
Stacey is like a big sister to me. She gives me advice on stuff. Stacey likes the same hobbies as I do. We like working with the horses, watching movies. Having a support worker like Stacey is very important to me because I have no friends that like the same thing as I do."
---
The Benefits Are Great
Short Breaks, formerly known as Respite, provides a break for the people we support and their families, but the benefits to those providing the short breaks are plentiful.
Our Direct Support People say it is one fop the most enjoyable and rewarding experiences they've had:
It's an opportunity for your family to become comfortable with a wide range of people, learning to treat everyone with the same level of care, respect and friendship.
You'll enjoy all the fun and fulfillment of building a relationship with an individual that is well matched to you and your family and brings their own personality and sense of humour into the mix.
You'll know that you're making a difference in the lives of an individual and their family without really trying; you're simply enjoying life the way you already do, while sharing it with someone else.
---
Respite With Randy is a Roaring Good Time.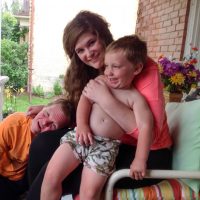 "When Randy comes to visit, our neighbourhood comes alive. Randy is welcomed by everyone and if our neighbours spot him getting out of the car they always shout "Randy's here!" Everyone knows him and he keeps us laughing.  Randy loves parties on our deck, campfires with the neighbours, playing soccer and ball hockey, handing out candy on Halloween and most of all, giving the biggest hugs you could ever imagine.  Randy has been coming for respite for 20 years and we can't remember a dull moment when he's with our family."
– Brenda, Respite Provider
---
The Requirements Are:
A Caring, Welcoming Attitude
Short Breaks are about building relationships where everyone wins, so a welcoming, caring and friendly attitude is essential.
No Experience Necessary
You don't need prior experience. We'll provide you with the support or training you might need.
A Private Room (for overnight only… some short breaks may not be overnight)
For overnight short breaks, it is essential for the privacy of each person that you have a spare room that is comfortable and safe – we always include a home visit as part of the matching process.
Flexible Scheduling
There's no obligation to set a schedule. Tell us what works for you (an evening, a weekend, a family vacation) and we'll help with the arrangements.
Expenses Reimbursement
We provide reimbursement to offset costs.
Security
Protecting vulnerable people is a top priority and part of the matching process, which will require you to obtain and provide us with a vulnerable sector police check.
---
We Are Great Matchmakers
Great relationships start with a great match, so before you open your home to a a person we always make sure that you are a good fit for each other, that you connect well and that you enjoy each other's company.
Initial Interview
The matching process always starts with a low-key interview when you get to ask all the questions you have and together we figure out whether the program is a good fit for you.
Screening
This is when we take care of important things, such as the police check, home safety assessment and references.
Orientation
This is to ensure you are well informed about all aspects and details of the program.
Coordinator Meeting
This is when you get to meet our EAFWR Support Coordinators who will provide information about people that we believe are the best fit for you.
Meeting Each Other
This is your first meeting with a person and their family, which will also include an EAFWR Support Coordinator, so that everyone can get to know each other in a low-pressure environment.
Spending Time Together
Before a person comes to stay with you, we always recommend spending some time together. Go for a coffee, have dinner or see a movie – this will build confidence for both of you.
Always Plenty Of Support
As a Direct SUpport Person, you will always be in contact with our coordinators and have the training and support you need. It is important to us that everyone has a great experience.
---
"Paula is so much more than an individual I support. She has become a best friend to me. We spend hours and days on end together and she is a part of my life in so many ways. Three years ago I introduced Paula to my horse Woody and now she is hooked on horse racing. She has adopted a horse I look after as her own, spends time riding, grooming and jogging my horses with me and attends as many races to help me as she can. She is a huge part of my life and I can't even imagine my life without her now. I am so thankful to extend a family for matching me with Paula I need her as much as she needs me."
– Stacey, Respite Provider & Direct Support Person
---
Learn More About Becoming A Direct Support Person for Short Breaks
Or Help Spread The Word By Sharing This Opportunity With Others
---
About Extend-A-Family Waterloo Region
Established in 1981, Extend-A-Family Waterloo Region has helped well over 3400 people find jobs, move into apartments, play music, tie their laces, learn their phone number, manage a budget, drink coffee, ride a horse, play hockey, watch movies, and generally enjoy all of the experiences that most of us take for granted.
We believe in an inclusive community where everyone is appreciated and respected for who they are and recognized for their contributions. As such, we want our Direct Support People to value the experiences they have with the people they support, as much as the people they support value them.
If this sounds like something that interests you, we want to hear from you.
---

Learn More About 
Becoming A Direct Support Person for Short Breaks
We would be happy to hear from you. You can fill out this form, and we will be in touch with more information, or you can call our office at 519 741-0190 x 315 to express your interest.
Become a Short Breaks Direct Support Person