Cheers to Inclusion
December 2, 2018 @ December 2, 2018

-

December 2, 2018
Extend-A-Family Waterloo Region and Descendants Beer & Beverage Co. present:
Cheers to Inclusion!
Enjoy snacks + sample of the Ryan McTavish Lagered Ale.
Beer by: Descendants Beer and Beverage Co.
Label artwork by: Sean Greenberg Illustration
Photography by: Edgar & Pooch Photography
Available in cans and on draught as of Dec. 2.
---
The story of Ryan McTavish: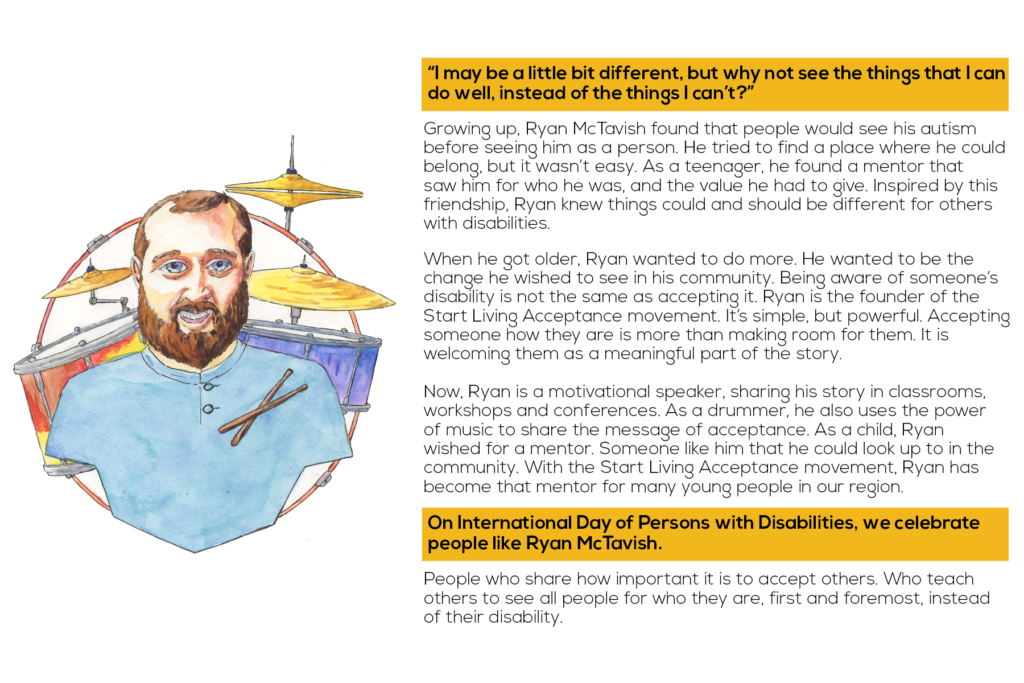 "I may be a little bit different, but why not see the things that I can do well, instead of the things I can't?"
Growing up, Ryan McTavish found that people would see his autism before seeing him as a person. He tried to find a place where he could belong, but it wasn't easy. As a teenager, he found a mentor that saw him for who he was, and the value he had to give. Inspired by this friendship, Ryan knew things could and should be different for others with disabilities.
When he got older, Ryan wanted to do more. He wanted to be the change he wished to see in his community. Being aware of someone's disability is not the same as accepting it. Ryan is the founder of the Start Living Acceptance movement. It's simple, but powerful. Accepting someone how they are is more than making room for them. It is welcoming them as a meaningful part of the story.
Now, Ryan is a motivational speaker, sharing his story in classrooms, workshops and conferences. As a drummer, he also uses the power of music to share the message of acceptance. As a child, Ryan wished for a mentor. Someone like him that he could look up to in the community. With the Start Living Acceptance movement, Ryan has become that mentor for many young people in our region.
On International Day of Persons with Disabilities, we celebrate people like Ryan McTavish.
People who share how important it is to accept others. Who teach others to see all people for who they are, first and foremost, instead of their disability.​
---
Available in cans and on draught as of Dec. 2, 2018.
All beer orders must be picked up at Descendant Beer & Beverage Co. Gift wrapping of six-packs will also be available with a donation to EAFWR on Dec. 2 at the brewery.
Ryan McTavish Lagered Ale, available on draught and in cans while supplies last.